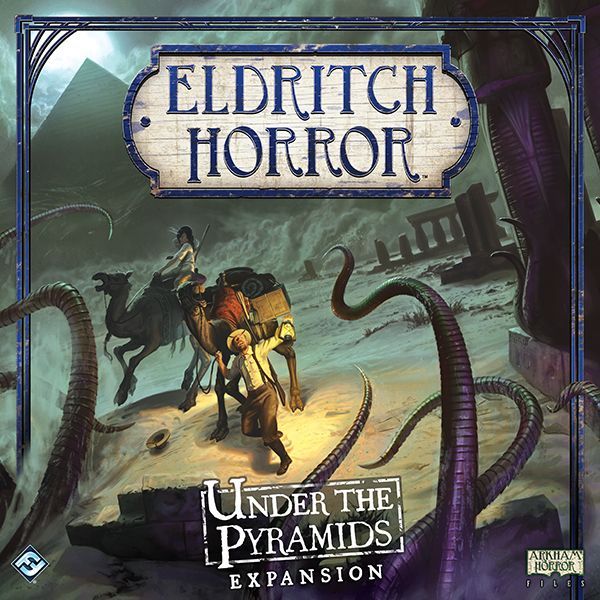 SETUP
The prelude brought the Dunwich Horror into play to start the game and each investigator got a spell in return. Since the prelude didn't indicate a specific Ancient One, I randomly picked a card and got Nephren-Ka as the Ancient One. Nephren-Ka uses the Egypt side board, so I had to make some table space, but different is good. He has a TON of cards. Each time there is a reckoning, the investigators move towards the Bent Pyramid spot (on the side board) or lose sanity. I'm playing solo using two investigators, which my starting two are Skids O'Toole and Patrice Hathaway. I've never played with either (that I can recall).
Round 1
Skids O'Toole - focus + move to Amazon (current expedition spot). Skids encounters and defeated the Snake People monster. He joins the Expedition there - they failed looking for the lupuna tree which caused an impairment on observation. Expedition moved to pyramids.
Patrice Hathaway - boat ticket + move to Shanghai. Patrice woke up to Ghouls trying to devour her soul. She got them to stop and they asked her for help with their curse (she gained a task).
Spreading Sickness - When people see your jaundiced skin or hear your loud coughing fits, they avoid you like a leper...
** Must go to Bombay to help stop the sickness (or investigators will lose health at reckonings). This is a fairly easy one to do, just need a couple clues.
Round 2
Skids - focus token + move to city 7. In a graveyard, Skids listens to a spectre's story and regains lost sanity.
Patrice - boat ticket and move to Istanbul. Did some research and gained the clue there. Shuffled the expedition deck (stayed at Pyramids).
Twin Spawn of Cthulhu - A dark force hidden in the southern-most part of the world has turn the Twin Spawn of Cthulhu free...
** Have to kill off both twins or spend clues at reckonings to avoid going insane. This is a harder one in remote areas. It is also going to eat my clues which I need for mysteries. It is also a little funny that I have so many classic things - Cthulhu and the Dunwich Horror going on in the game.
Round 3
Skids - boat ticket + move to San Fran. There is a gate here that Skids wants to close - through the gate Skids encounters his childhood self who screams at the stranger that appeared. His father tries to shoot him, but he wrestles the gun out of his hands and he barely gets away.
Patrice - focus token + move to Bombay. She helps the doctors cure the Spreading Sickness rumor by spending two clues.
All for Nothing - you wrap the towel around some ice and apply it to your injuries, hoping to reduce the swelling...
** Doom advances (so far nothing horrible in the Mythos cards). Reckoning effect moves Patrice from Bombay to the side board into Cairo. Skids moves out of San Fran.
Round 4
Skids - move back to San Fran to try the gate again and gains a focus. Yuggoth - Skids learns how to operate machinery to close the gate!
Patrice - takes lead investigator. Gains a focus + uses banishment spell to rid Sydney of newly spawned monster. In Cairo, she spies on the Brotherhood of the Beast and gains a clue.
Haunting Nightmares cause both investigators to lose sanity and gain a madness condition.
Round 5
Skids - move to Tokyo + "rests" to get rid of madness. In Tokyo, Skids is arrested and gains a detained condition.
Patrice - focus token + "rests" to get rid of madness. She finds a ritual to summon Anubis and end the Black Wind (mystery 1 solved).
Painful Memories wounds each investigator, but the trauma removed their impairments, so the wound was worth it.
The new mystery requires the investigators gain clues from the Egypt board and spend them to solve the mystery. Not so bad, but I am clue poor at the moment.
Round 6
Patrice - moves to Sahara Desert and rests. She is able to find a symbol on a skull and gains a clue (spent on the mystery).
Skids - Detained in Tokyo and can't talk his way out of it. Finally freed after days of questioning.
The End is Nigh - You've pushed everything to the breaking point...
*** Basically lose everything (1 of each kind of thing) and then 1 health and sanity. Skids goes insane. Harvey Walters joins the team as his replacement. That was a rough phase with two gates getting spawned - one due to the Dunwich Horror, two tough spawns and losing all the stuff.
Round 7
Patrice - move to Bent Pyramid + rest. Locusts swarm and she recognizes the attack was from the Brotherhood of the Beast - clue gained and spent.
Harvey - move to London and tries to use his tome (fail). Harvey is invited to look at the Necromicon and becomes delayed (but spawns two clues).
Heat Wave Singes the Globe - loss of health for Patrice and delayed for Harvey (he already was). And of course, more reckonings, gates and doom.
Dumbledore?!?
Round 8
Patrice - moves to Sahara and rests. Through the gate there, she meets an ancient Egyptian warrior that teaches her a chant to work against Nephren-Ka and she closes the gate.
Harvey - was delayed. He gets done with his research but is attacked by a Lloigor and succomns to his wounds. His friend Norman Withers (also from Arkham) joins the party.
The World Fights Back - normally a good event for investigators, but the Cthulhu mystery expires and causes Patrice to go insane. Doom is down to 1, there are now 7 gates on the board. Tony Morgan joins the investigation team to replace Patrice.
Round 9
Tony - move + focus token. Sees the King in Yellow play and learns a ritual spell.
Norman - move + boat ticket. Meets Sir Arthur Conan Doyale and ends up spawning clues.
Silver Twilight Aid - also should be a good event, but the gates push the doom track and Nephren-Ka awakes. Now, three mysteries have to be solved AND we have to deal with the big bad himself. Not looking good. Each investigator grabs a clue from the aid.
Round 10
Norman - heads to Alexandria. He sees a blasphemous King in Yellow play (it was showing everywhere) and gains a glamour spell from parts of the play.
Tony - moves to South Africa + gains focus token. Plays poker and amazes everyone, gaining an ally.
Curse of Knowledge - investigators lost clues and Norman became cursed. I really needed those clues.
Round 11
Tony - moves to The Nile River + uses his special ability to gain some clues from his focus tokens. He tries to advance the mystery, but he is ambushed by a Spawn of Sebak and then a cultist and fails to advance the mystery.
Norman - tries to use his ritual and fails + grabs a focus. Despite his curse, Norman manages to spy on the Black Brotherhood and steals the Book of the Dead!
And the Mythos phase finishes off the game.
As per my normal M.O. I had too many gates on the board and ended up with too much doom. This time I wasn't avoiding the gates. The monsters that spawned were really not bad to deal with OR were placed somewhere other than the gate location, but I just couldn't seems to get lucky at the right times. I had a good bead on finishing the third mystery, but "ran out of time". Part of that was having to spend clues to fend of the stupid Cthulhu offspring. Even if I had wanted to fight them, they were way out of the way since I needed to be in Egypt focusing on mysteries there. The starting prelude also hurt - the stupid Dunwich horror spawned three extra gates on me. I finally played a game with only investigators I have never tried. None seemed special, but neither were they broken or worthless.
I did find it funny that there was so much other "lore" - Dunwich, Cthulhu, King in Yellow all got mentions despite not really being part of the main story. Good times!