How is it already August 2019?! With July gone, we are now 30 (30.5) weeks of the year done and gone. Summer is where I normally really fall off at painting, and this July was no exception - just a busy month for me and HOT here in AZ - makes for some lazy nights instead of painting nights. That being said, I did paint a couple of things including five Descent figures to keep up my chosen pace of one a month.
Over on BGG, the Painter Guild runs a monthly "
Challenge List
". Back in June, I set a small goal and easily hit that, so I added a bunch more stuff that I didn't complete, which became the defacto July list. For July I wanted to makes some progress on a couple of monster sets, namely the Wendigo and Skelton Archers. I finished neither of the two groups, but did get 3 Skeleton Archers and 2 Wendigo complete. Also, if you missed it, I did play a bit of Descent last month (because what is the point of all the painting if I never play the game?) - be sure to check out the
session reports
.
Here are my lifetime totals (for Descent 2nd Ed) and the figures I finished for the month for my never-ending Paint Descent Project:
77 monster figures done
30 hero figures done
12 lieutenants done
40 figures done in 2019 through 30 (30.5) weeks (my yearlong goal is 1/week)
The Wendigo models looked cool until I started to paint them. First, they had a lot of gaps that I had to fill in with green stuff. Then I primed them and realized that they had some god awful mold lines and other crap (the teeth are really bad). That aside, for these I primed with a zenethil prime and then used the grey and white areas to "paint by numbers" the various colors. I used grouping of three colors and worked to blend between the areas. I still have to do the Master version (which model-wise is the exact same) and haven't quite decided on the best way to make him slightly different. I may go for a more overall white/grey instead of brown.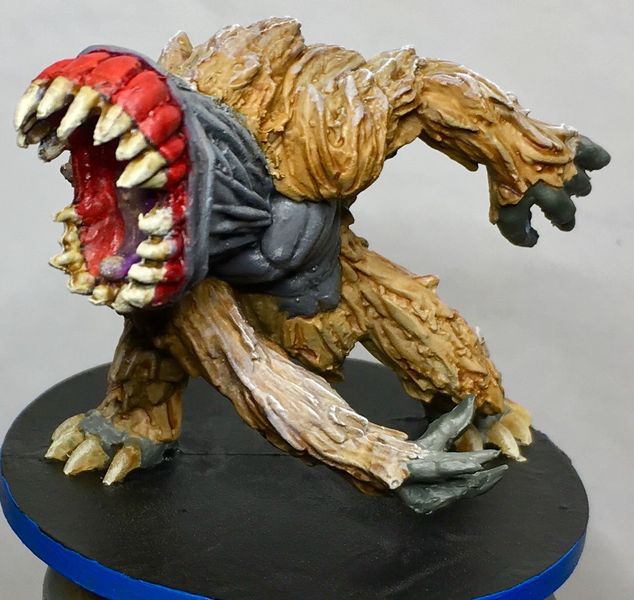 For the Skeleton Archers, I was not looking forward to repeating five of the same thing. I checked out some pictures and realized they are supposed to be in black armor, so I decided to mostly use contrast paints for these (though I can't say it saved me a ton of time). The armor and bone were all done with contrast paints, and I think they look pretty decent. I use normal paints and wash on the cloaks and did the three skeletons I finished in various shades of blue and green cloaks. I added a couple of extra details and called each done.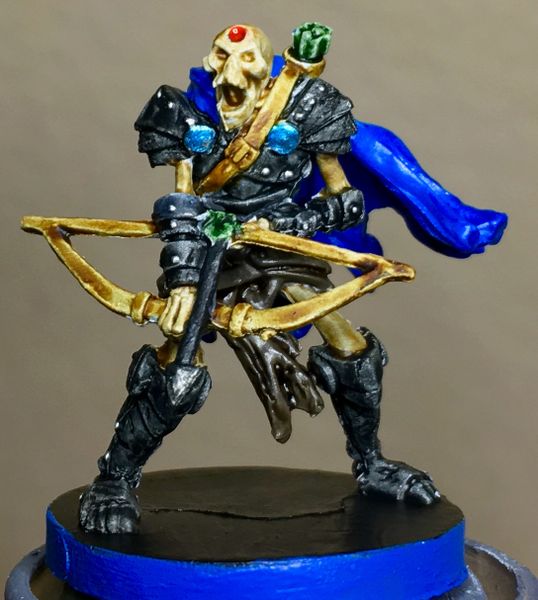 Not terribly exciting for the month of July (painting-wise), I know.
One note - I need to finish up with the Wendigo and start and finish the Crypt Dragons (my goal for August). I also hope to finish playing the Heirs of Blood campaign, which means I can start the next one (probably The
Lair of the Worm
mini-campaign). When I start that, I hope to add in a hero and monster set or two. I have finished the
Crusade of the Forgotten
set so that's a no brainer. But if I also want to include the
Guardians of Deephall
, I have to finish those monsters.
The base game is nine monsters types (which sounds reasonable, but I found out that it becomes repetitive very quickly since you typically have 3 or so groups per encounter). Lair of the Wyrm (being a small box expansion) only adds two new types of monsters. Crusade would add three more types, as would Guardians, thus giving me 17 monster types to go against. That sounds like a decent amount of fun to me. I can't wait. Setting up an encounter is always a lot of fun once the painted figures hit the table.
Don't forget to check out the rest of the gang at PunchBoard Media!